Enjoy different screensavers every day with Multi-Screensaver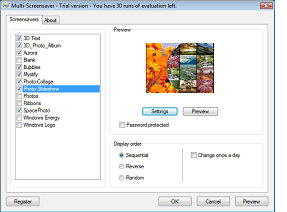 Do you have a dozen of stunning screensavers, but Windows only lets you select one? With Multi-Screensavers, you get to select as many screensavers as you like.

Multi-Screensaver is a screensavers manager that lets you run one of your favorite screensavers every time when you are not at the computer. Run them in random order or in turns, change on every launch or just once a day, itís your choice.

You can try the program absolutely FREE!
Download Multi-Screensaver right now to enjoy your favorite screensavers.